GRAMMAR DOESN'T NEED TO BE BORING:
Most of the grammar books and grammar lessons are not clear and too technical. 
They try to teach you a bunch of rules that you don't need and will never use.
That's why so many people cringe every time they hear the word: "grammar".
Grammar can be so stressful that it makes people doubt themselves.
I am here to say that it's time to say ENOUGH!
STOP feeling insecure about making mistakes
STOP overthinking about grammar every time you speak
STOP trying to memorize every single grammar rule
It's time to deal with grammar and understand it easily. Once and for all.
Nab makes grammar much more fun and relevant than any other grammar course.
Like everything he does
WHAT WILL YOU GET?
Grammar in Nutshell is a complete English grammar course taught by Nab (@EnglishwithNab), an American English coach, and a speaker of 4 other languages.
You will learn all the aspects of the grammar structures, so that you can sound more native-like when you speak English.
This course includes: 
lectures divided in 4 video lessons
online books to support your learning process
Each section focuses on different grammar structures so that you can master each one and produce it accurately in your spoken English.
If you want to speak English more clearly, if you want to sound more native-like, or if you simply want to take your English to the next level, this course can help you achieve your goal of improving your English.
WHO IS THIS COURSE FOR?
It doesn't matter if you are a beginner, intermediate or advanced user of the English language.
If you want to communicate fearlessly and correctly, you should join the GRAMMAR IN NUTSHELL Course.
Take this course if you want to:
Improve your spoken English, and upgrade your listening skills in English.
Master English grammar, and write correctly.
Take your English to the next level.
About Instructor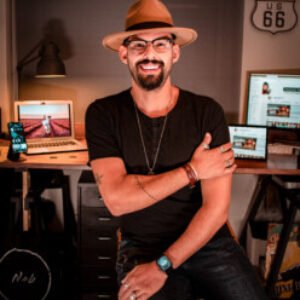 Hi there. I'm Nab, the guy behind the @EnglishWithNab.
I've been an American English Coach for more than 13 years, and have spent years living and working internationally.
My love of cross-cultural living and the rewarding experiences I've had as both a language student and ESL tutor have led me to successfully share my language and experiences with hundreds of students from all over the world.
As I speak 5 languages, I have dedicated my life to understanding the grammar structure of each language, and to teach you in an engaging and efficient way.
Login
Accessing this program requires a login. Please enter your credentials below!